Toys R Us Canada: $60 Off Step2 Creative Cooks Kitchen (Now $140 | Was $200)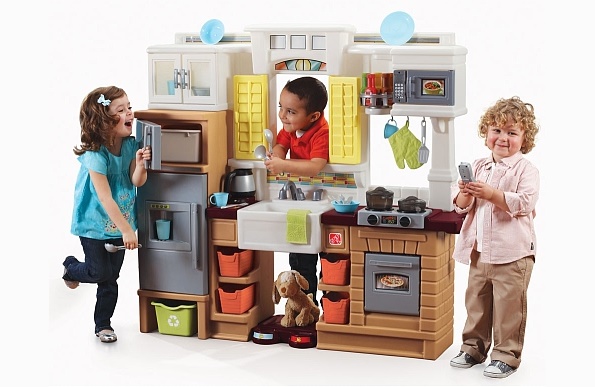 Are you a fan of Chopped Canada or maybe even Top Chef? Then get your little one his or her very own kitchen to practice cooking in as for a limited time, you can save $60 on the Step2 Creative Cooks kitchen at Toys R Us. It was originally $199.99, but you can get it for just $139.99.
I would absolutely love it if my little one grew up to be a big time celebrity chef, especially if she cooked for me every evening, and I'm actually very tempted to get this kitchen even though she isn't quite old enough to play with it yet! :P
What's cool about this 'toy' is the level of details: there are plenty of accessories, appliances (oven, stove top, microwave), a phone and even a back splash, etc. Plus, it can be used as an educational toy as you can teach your child chores like taking out the garbage, feeding pets (through stuffed toys, although these aren't included), etc.
Don't be fooled into thinking this is just for boys either. Not only is there a picture of a boy on its promotional image but countless of happy parents have left comments saying that both their daughters and sons really enjoy playing with it!
Out of close to 70 reviews, this kids' kitchen has actually received a total of 4.5 stars out of 5, with positive reviews like the following:
We bought this for my 18 month old daughter for Christmas. It is a great kitchen set! The sink is large enough for her to really pretend with; all of the bins and doors to open are great. It was not that difficult to put together. She loves it! Worth the money.
Although there weren't many, negative reviews primarily highlighted the fact that the kitchen wasn't easy to put together but it would seem that this aspect is definitely hit or miss as the vast majority of reviewers stated this kitchen's ease of assembly.
Shipping fees depend on your location but a $10 discount will automatically be applied at checkout when you add this kitchen to your basket. There is also the option of getting it in-stores to avoid paying the fees; just make sure to call ahead to check its availability.
(Expiry: 26th June 2013)