Toys R Us Canada: 3 Weeks of Deals for Christmas! Week 1 Deals Save up to 50% Off Holidays Speacial & Monday Madness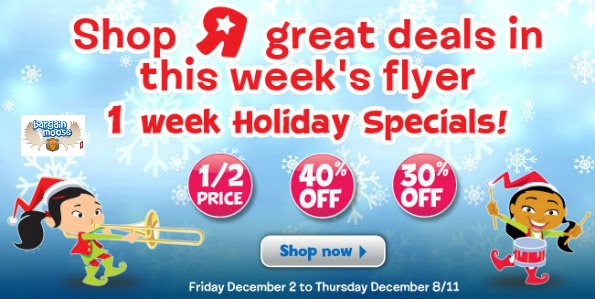 Toys R Us Canada is counting down to Christmas by offering 3 weeks of deals.  This week's deals run from December 2nd until December 8th and have many of their toys on sale for up to 50% off.  No Coupon Codes necessary.
Here are some of the deals for Week 1 of the Holiday Specials.
Not only are a lot of their toys on special but so are lots of their games.  If you still need to do some holiday shopping for your kids these are great deals.  Around our house we love the VTech products so I will be taking advantage of the deals they have on their systems. Playmobile was one of my favorite toys as a kid and I would have loved this Carry Along Doll House for Christmas!  It's funny how many of the toys we loved as kids are becoming popular now with the new generation.
They are also having Monday Madness Sales every Monday until December 19th Both online and In-store with no coupons necessary.
This Monday they are having a selection of toys on sale for B1G1 FREE plus other great discounts.  This is great if you have to buy multiple gift for kids.  Some of the deals that I think are great for both boys and girls are things like these Mega Bloks set 100 peices on for $12.47 (regular price is $24.99) that's 50% off, or Edu-Science Microscope and Telescope Pack for $29.97 (regular price is $59.99) which is also 50% off!  My Nieces would love to get this Disney Princess Camera for $6.99 which is already a great deal but when you factor in the sale of the B1G1 this is a very Hot Deal!
Also keep in mind that Toys R Us offers Free shipping for orders over $100.00.