Step 2 Stock Car Convertible Bed 40% Off @ Sears -- Now $240 | Today Only!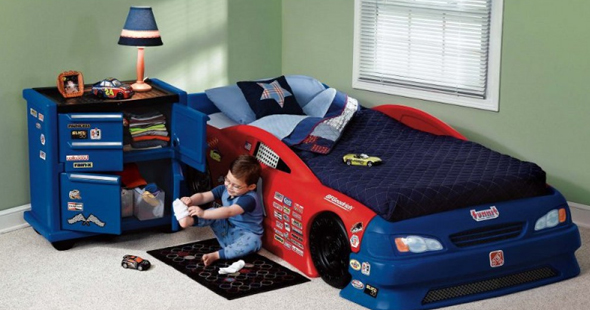 Sears is having a one-day sale on select toys and other juvenile items and I spotted this cool Step 2 Stock Car Convertible Bed marked down by 40%! Regularly $399.99, pay just $239.99 today at Sears.ca.
I've very quickly learned that, with kids' stuff, it's about getting the most bang for your buck because they use/wear things for such a short time before outgrowing (or destroying) them. Recommended for age 2 and up, the Step 2 Stock Car Convertible Bed will grow with your child as it converts from a toddler bed to a twin size. As is always the case, Sears provides a few different options for obtaining your purchase.
Part of me wishes our little guy was closer to the "big boy bed" stage or that we had more storage because this thing is so cool, I'd sleep in it.
Like most Step 2 products, the bed is made from sturdy plastic that wipes clean (super handy for when it is inevitably drawn on with crayons). The headboard is the car's spoiler and the footboard - my favourite part - is the front grill but also has a race track molded into it for kids to play with! Another dual-purpose aspect of this great bed. When they wake up at dawn and you're still trying to catch some Zs, they can play quietly (ha!) with their toy cars right in their room. It even includes 50 stick-on racing decals so your kiddo can custom design the exterior of his new car. The Step 2 Stock Car Convertible bed uses a crib mattress when set up as a toddler bed and a twin mattress once converted to its full size.
When I saw this, I immediately did some comparison shopping. I found similar, themed toddler beds (that don't convert) are as much as $450! Another, simpler one, was still pricier than this convertible model at $270. I was able to locate this bed at a couple of other Canadian retailers but at nowhere near this low price! In fact, shop.ca is out of stock but has it priced at $10,000; I'm hoping that's a misprint! Even the average price on American sites is $300 US. With 74 ratings on Sears.ca, the bed has an incredibly strong overall rating of 4.7 out of 5. One reviewer only criticized the fact that the bed requires a shorter-than-average twin mattress that was difficult to locate but, strangely, no one else mentions having that same issue.
**Edit: upon adding this to my cart and proceeding to checkout, the price on Sears.ca was $279.99. While still a significant discount, it's not 40% nor the advertised price. I called the toll-free number and was told $239.99 is the correct price and if you place your order over the phone, that is what you will pay. A bit of an inconvenience but, hopefully, worth it!**
You'll definitely want to select the Ship-to-Store option for pick-up at your local Sears store as I was quoted almost $70 for shipping!  Remember: this 40% discount will end tonight!
(Expires: 5th January 2016)