Step 2 Naturally Playful Picnic Table with Umbrella now only $78 @ Sears.ca! (Free Pick Up)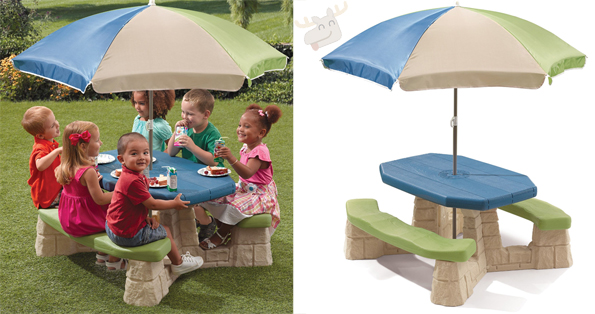 A few days ago, I wrote about this Step 2 activity table from Sears, which was a good bargain at the time. Sadly it's not available any more, but there are other Step 2 items which you might want to consider. For example, there's a really sweet price on this Step 2 Naturally Playful Picnic Table with Umbrella just now. While most other online retailers in Canada are selling this kids' picnic table for around $120 to $140, you can actually get it for only $78 from Sears!
Use the Sears coupon code to get it for this lower price – the code is 941612461 and that gets you $10 off $75 on selected toys until the 2nd of September 2015. Just pop the picnic table in your cart, apply the promo code, and you're good to go.
Now, even though there is a banner at the top of the Sears site stating that you can get free shipping on a $49 spend, it doesn't seem to apply to this kids' toy. When I went to my shopping cart, shipping seemed to be an extra $69.95, which is pretty damn silly. Instead, I was able to select the free shipping to a local Sears option. I guess the free home shipping doesn't apply as this is a large item. Just make sure that you take a large vehnicle when you go out to collect the Step 2 table – I'd imagine it comes in a rather large box!
As I mentioned in the first paragraph, this item is a great price compared to elsewhere. To expand a bit on that – the same table is $120 at Best Buy Canada, and $140 at Amazon Canada. The discounted Sears price combined with the extra coupon code above really does make for a superb deal.
The reviews on Sears seem extremely positive too, with comments such as:
I have researched a lot of picnic tables and this was the best one. My 3 year old loves it and can't wait to have her little friends over for lunch!
My girls would LOVE this in our garden. It would be beautiful for the little ones to sit around while the adults are grilling. :)
(Expires: 2nd September 2015)