Step 2 Easel for Two 30% off + Extra 16% with Coupon Code @ Sears.ca -- Now $35 | Today Only!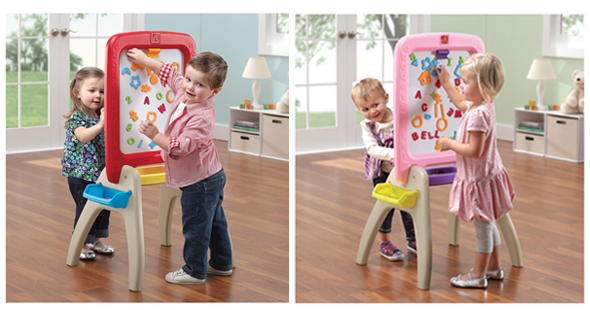 Oh, Moosers, we're coming across so many great deals today despite the holiday. Here's another: Sears.ca is offering an additional 16% off sale-priced items today only with coupon code 941612535. This is adding extra savings to some already great prices. I came across the Step 2 Easel for Two that had already been marked down by 30% to $41.99. I added it to my cart and applied the coupon code at checkout and it dropped to just $35.28, making the savings a total of 41% off the regular price! As usual, Sears offers a few different delivery options, as well.
Coupon Code: 941612535
Discount: 16% off sale items
Expiry: 1st January 2016
If you have any budding little artists, you'll love this and your post-holiday pocketbook won't mind the price. The Step 2 Easel for Two is a (wait for it) two-sided easel! One side is a chalkboard and the other is a magnetic dry erase board for double the fun. There is also a clip on each side to hold paper for drawing and painting activities. The middle area is for storage of art supplies and can be accessed easily from either side. The deep trays and pencil ledges keep paint, brushes, markers, chalk, erasers, crayons -- whatever your little Picasso needs -- within easy reach. It even comes with an accessory pack containing foam magnetic letters, numbers and signs to get them started. 
Like most Step 2 products, the Easel for Two is made of sturdy, durable plastic and requires minimal effort from you to assemble and it's available in red or pink. The manufacturer's recommended age range is 3 years and up.
I found the Step 2 Easel for Two for sale at a few other retailers around the good ol' web. Bed Bath & Beyond Canada has it for $59.99, as does Best Buy and Costco.ca. Though sold out online and only available in store, Toys R Us has it priced at $64.99. Amazon Canada's stock (from third-party sellers) starts at $94.78. Needless to say, paying just $35.28 at Sears.ca today is the way to go!
Now, orders over $49 will ship for free from Sears, so the easel on its own won't qualify. There are so many great things discounted around the site, it wouldn't be hard to find a filler item to bump it up over the threshold. If you've looked around and can't find anything else that catches your eye, the price for shipping I was given (I'm in southeastern Ontario) wasn't terrible at $7.95. That cancels out the additional 16% discount but it's still cheaper than anywhere else! Otherwise, select the store pick-up option to grab it from your local Sears store at no additional cost.
(Expiry: 1st January 2016)