Smooshins Surprise Maker Kit $59.95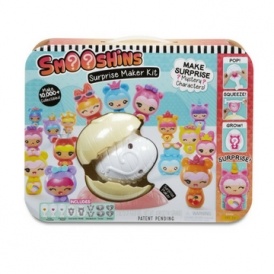 If your kids love surprise toys, they'll go crazy for the Smooshins Surprise Maker Kit – and you can grab one for Christmas for $59.95 at Chapters!
Instead of waiting to see what's in a surprise bag, your kiddos can actually create their own surprises to keep, gift and collect!
The Smooshins Surprise Maker Kit comes with everything you need to make your own Smooshins: cute little squishy figures you get to design yourself! Here's everything it comes with:
Surprise Maker
Squeeze tool
2 surprise character molds
2 colour pouches (pink and orange)
2 sets of surprise accessories
2 character stands
Just pop, squeeze and out comes your surprise!
Other molds and colour refills are out of stock online, but you can view the options here.
This set also sells for $59.99 at Toys R Us Canada and $69.98 at Well.ca.