SmarTrike 4-in-1 Trike with Steering Now $90 @ ToysRUs.ca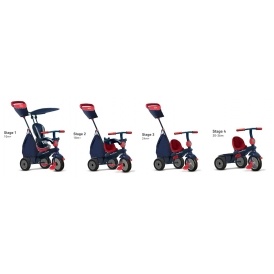 Warmer weather is coming! It is 11 degrees here today and I wish I was out riding my bike. If your little one still needs a trike for the warmer weather ahead, then get your hands on the SmarTrike 4-in- 1 with Touch Steering. It is on sale from$149.99 down to $109.97. Plus, when you use the coupon code BRCFEB you will get another $20 off, which puts the price at just $89.97.
This SmartTrike 4-in-1 is designed to grow with your child in four different stages. Your little one can enjoy this bike from around 10 months old all the way through their third year - or longer. When your child is too young to pedal and steer, you can sit them on the trike for a nice stroll. You will control the steering and there is even a shade to keep the sun from burning your sweet one's little face. I have this SmarTrike for my son and I could easily steer it with one hand. We enjoyed a lot of strolls with the dog while my son was on this trike, that's for sure.
By the end of the summer he was learning to pedal himself, but I felt safe knowing I could still control the steering if need be. This year I think he will be using it as the Stage 4 - and he shouldn't need my help at all. I hope you enjoy it as much as I do!
With this particular purchase from ToysRUs.ca, you will get $10 discount on shipping. With the $10 discount I was only looking at an $8 shipping charge, which isn't bad at all. You can also opt for free in-store pickup and get your hands on the SmarTrike as early as today.
(Expiry: 29th February 2016)