These New Shopkins Playsets are Finally in Stock!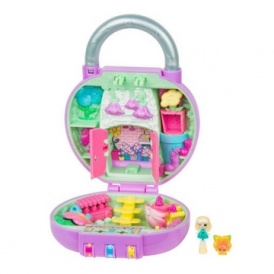 I almost couldn't believe it when I saw the new Shopkins Lil' Secrets Mini Playsets. They definitely gave me a trip down memory lane, and I'm betting they'll be on the top of more than a few Christmas lists this year.
These little locks have popped up on a few different websites over the last couple weeks, but they're finally in stock online (and here to stay) at Chapters Indigo.
They sell for $16.95 each at Chapters, and they are available in stores if you don't manage to grab one online.
Let's be real though: these are basically Polly Pocket for a new generation. They're portable and adorable, just like the Polly Pocket toys we grew up with, but they're filled with surprises for the Shopkins fans out there.
Crack the code to open your lock and reveal Teeny Shoppies and Tiny Shopkins – and you might just find a special finish secret lock!
Orders over $25 ship free, or you can ship your order to a Chapters store for free.
If you like this, you may like these...