Shopkins 12-Packs And More On Sale @ Showcase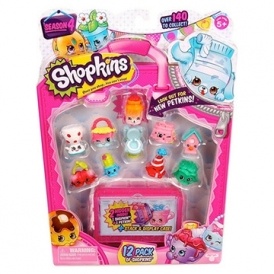 I was on the hunt for these Shopkins Surprise Eggs to toss in the Easter baskets for my majorly obsessed collectors this year and my go-to for Shopkins has always been Showcase, just because they have the biggest selection and my kids are pretty serious about exactly what season and sets they are after. Didn't find much of a deal on the eggs, which clearly are a hot item right now, but I did see that if you're willing to shell out for four eggs, you can get a fifth one for free. We'll have to keep an eye on these and see if there's a deal after Easter weekend...
I find these tiny toys outrageously expensive for what they are and unfortunately the hottest items—surprise bags of newest seasons—almost never go on sale because they sell out practically before they even hit the shelves!
Now I'm not pre-ordering and standing in line for these things—no way! But I do have two girls who are collecting and really love playing with Shopkins, so I keep a little secret stash for birthdays and holidays when I see some that are on sale. What caught my eye today are:
There are also a few fun freebies for Shopkins fans on the Showcase site, like a free download of the Season 4 collectors list and printable trading checklist.
Shipping is free on orders over $40 from Showcase, so it's good to stock up on a few sets or suprise packs... make a list of upcoming birthdays and events and take care of a few gifts at once.
Are your kids crazy Shopkins collectors too?