Sears Canada: Step 2 Fantasy Vanity Was $100 | Now $50 & Free Shipping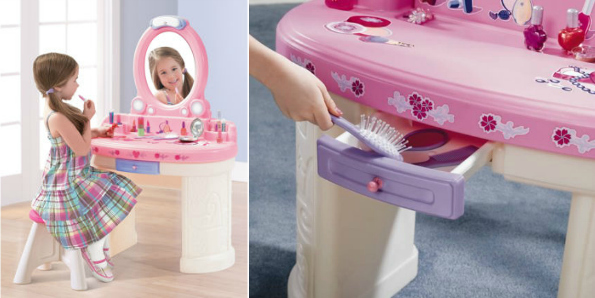 I like good deals on big toys and this Fantasy Vanity from Step 2 is a pretty nice deal. It is currently on sale from $99.99 down to $59.99. Use the $10 off $50 coupon code 941612528 to bring this vanity down to $49.99. As it is just over that $49 minimum threshold for free shipping, you also get free shipping to your house.
I like when deals like this come together: a good discount with a coupon code and free shipping. It is like a match made in heaven because you get a discount on top of a discount and then do not have to worry about paying shipping charges either. This vanity has everything your little princess needs: a working light, three-piece accessory set, and a matching stool. There are also molded-in storage compartments for costume jewellery and makeup.  One reviewer said:
My Grandaughter loves to sit at the vanity, brush her hair and put on her pretend makeup! It was a Christmas gift and her favorite one! She sits at the vanity every morning to play!
There is a drawer that slides out for extra storage as well. It is great for those 'prized pieces' of your child's collection that she wants to stop away for safe keeping. The vanity also includes a plastic shatterproof mirror that keeps your princess safe no matter how many times she tips over or throws things at the stand. The push-button light is perfect for low light conditions like mornings and evenings.
The three-piece accessory set includes a hand mirror, brush, and a comb. The matching stool gives your child a place to perch while she is doing her makeup or putting on jewellery. The set does require 4 AAA batteries that are not included.
Overall, this is a great stand at a great price with free shipping thrown in as well. The same vanity set is currently on sale for $69.99 @ Amazon Canada and $88.99 @ Costco Canada. If this vanity was cheaper anywhere else, I would have expected it to be at those two places. I also checked out some websites in the USA where the cheapest there was $69.99 USD. Essentially, Sears Canada has a really good deal on for today only.
(Expiry: 5th January 2016)