Scooters & Ride-Ons Under $25 @ Toys R Us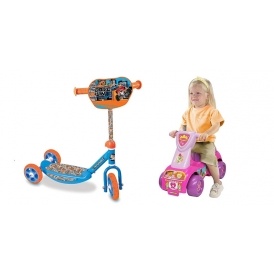 Spring has sprung—and is hopefully here to stay—so it's time to get outside! Or send the kids outside while you enjoy a glass of wine, whichever. Toys R Us has some sweet half price deals on outdoor toys this week including scooters and ride-on toys for the smaller kiddos.
Three-wheeled scooters with their favourite characters that are usually $49.99 are just $24.87.
Each design has a durable steel frame, PVC wheels and a wide platform deck for balance. Not to mention the cool graphics!
So the younger ones don't feel left out, there are also ride-ons that have been marked down to just $19.87 from $39.99. The Little People Push 'N Scoot is available in red and white rescue truck or pink princess designs. They're easy to assemble and even have buttons in the handlebars that play noises and a tune.
Toys R Us offers a $10 shipping credit on each of these items, so if in-store pick-up is not available at your location,at least you can save on delivery costs without the usual minimum order!
(Expires: 21st April 2016)