Savings up to $450 Outdoor Play, 25% off Disney Bikes & More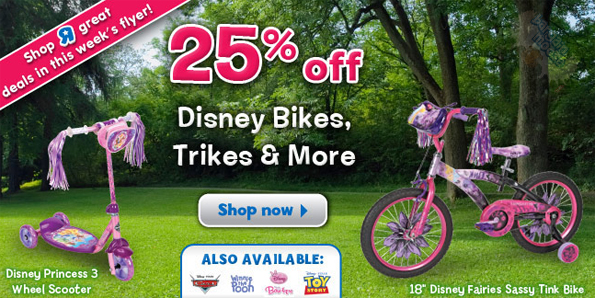 Toys "R" Us Canada is having a few deals this week, such as savings of up to $450 on outdoor play, 25% off Disney Bikes, and many more deals!
Toys "R" Us Canada has always impressed me as being for the wholeness of children, beginning at infant and continuing through to the child in us all.  I like that they are creating more physically active children with this deal.  They also have deals for those who are mentally more active, so you will want to browse their site.  It is massive.
The  12" Disney Rapunzel bike, with removable training wheels, was $99.99 and is now  $74.97.  The Disney Princess Toddler Combo, was $24.99 and is now $19.99, includes a helmet, knee and elbow pads which helps make your princess a little less likely to suffer from minor cuts and scrapes as she learns to ride, and, it's under $100.  Remove the training wheels as your little one graduates from training wheels to a 2 wheeler and have a party.
What better place to have a party, with the little people, but in her own outdoor play area. I equipped my ideal playground with:
Shipping: Determined by weight at check out
Note that some items on the deal apply on-line only.
Expiry: unknown