Ridley's Table Tennis Set Now $14 Shipped @ Chapters.Indigo.ca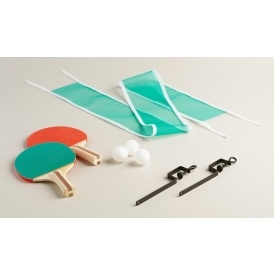 What do you bring with you when you and the kids head up to the cottage? I try not to bring any electronics but that can be hard. Worst case, we have a two hour period per day where we just hang out and play games... technology free. I feel my family would really enjoy this Ridley's Table Tennis Set which is currently on sale at Chapters.Indigo.ca for $14 —which is 29% off. Another bonus to this deal is that Chapters is currently offering free shipping on all orders, with no minimum purchase.
They call this table tennis but it looks more like Ping Pong to me. This is a game that can go anywhere, and doesn't need batteries or a plug to run. It comes in adorable retro packaging that will remind you of the good ol' days, and you can easily play on any table.
The Ridley's Table Tennis Set comes with a net that can easily attach to any table top with the included clamp. The entire set even comes in a carry bag which makes it the ideal game to bring with you to the cottage or on your travels—perhaps a summer road trip this year? The box also contains 3 balls, 2 paddles and 1 net.
Normally you would need to spend $25 to get free shipping, but right now you get free shipping on all orders at Chapters.Indigo.ca.
(Expiry: Unknown)