Remote Control Inflatable Flying Shark $46 @ Amazon.ca Marketplace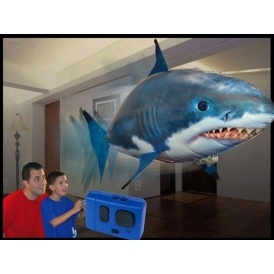 This Air Swimmer Remote Control Inflatable Flying Shark is a great concept that actually works! In a typical helium foil balloon fashion (for the floating aspect feature of this shark), the designers took it one step further and have added to the shark a means of flying and controlling it in the air. This item is sold by Amazon.ca Marketplace Seller ShopTronics and the order is fulfilled by Amazon so you'll get it fast since it doesn't have to ship overseas. (When you click on the following link, make sure you select to purchase the shark sold by ShopTronics and that is fulfilled by Amazon. for $45.99.)
You can maneuver this shark up and down stairs, around corners and it has an eerie look as it flies through the air. Kids will love this! You have to fill it with helium yourself through a balloon or floral shop, but once you do, it will stay inflated for up to 2 weeks.
The speed isn't that fast really from what I have seen in YouTube vids, but it is something kids will really enjoy using to play with and they will love freaking people out with it.
Shipping is free on this item because it meets Amazon's new $35 minimum requirement of eligible spending to receive free shipping!