Princess Dollhouse Was $60 | Now $30 @ Giant Tiger Canada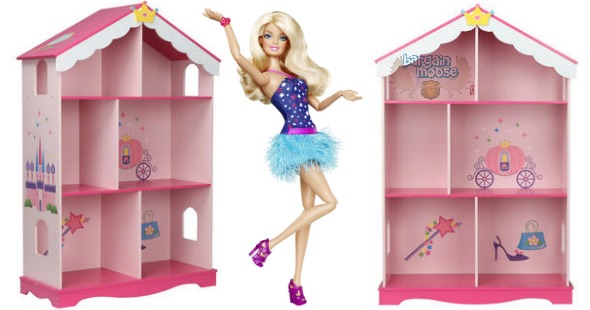 Here's an excellent deal for the little girl in your household. During the Boxing Day sales at Giant Tiger, this Princess Doll House is only going to cost you $30, instead of the original $60. You can use it as an actual doll house, or maybe even as a bookshelf.
This Princess Dollhouse is only available at half price at Giant Tiger Canada online for a limited time. The dollhouse has ample space to be used as a bookshelf for your daughter's favourite bedtime stories, or even simply as an actual dollhouse. You will even notice a top secret compartment in the top shelf. Some assembly will be required. This dollhouse from Giant Tiger looks like it would be a great scale for Barbies or maybe even Monster High Dolls. Avigayil loves those monster high dolls. If they go on sale, Avigayil will let you know I'm sure.
The enchanting princess designs are sure to make any little girl squeal with joy. I know that Christmas just passed, but it is never too early to shop for birthdays. You can rest assured that this dollhouse is constructed with high quality materials. It is both heavy and built to last. This dollhouse from Giant Tiger Canada is best suited for children ages 3 and up.
To give you a general idea of the size, this dollhouse will measure 107 cm x 71 cm x 30 cm. It only comes in pink of course, the perfect colour for your little princess. I would have loved this dollhouse when I was a little girl. There are enough rooms that you can imagine a bathroom, kitchen, living room and at least one bedroom. Of course my Barbie's always had cars so I would probably have parked that in the house too. Ken would be thankful to have a garage in this pink household. Unfortunately this Princess Dollhouse from Giant Tiger does not come with any furniture or accessories, but I am sure you can find some items that are perfectly suitable.
Your order will also qualify for free standard shipping since it exceeds $25 after discounts. This is great because shipping would have cost you the flat rate of $8.98. Shipping can take between 5 and 10 business days. If you need this Princess Dollhouse shipped to you faster than that, you can opt for Priority shipping and just pay $5.00.
(Expiry: Unknown)