11 PC Pretend Fruit & Vegetables Set Only $7 & Free Shipping @ Amazon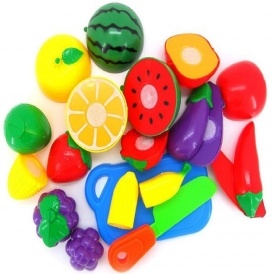 I've been looking for pretend fruits and vegetables for my son, and stumbled upon this inexpensive set from Amazon. It was originally $32.19, and is now 79% off, going for only $6.89. 11 pieces are included in this set, which includes 1 orange, 1 apple, 1 watermelon, 1 corn, 1 grape, 1 strawberry, 1 banana, 1 eggplant, 1 chili, 1 knife and 1 cutting board.

Fruit and veggies toy sets are an essential part of "pretend" play. My son loves to name all the fruits and vegetables, and make me pretend to eat them. Plastic fruits and vegetables are also useful when it comes time for you to teach your children their names.
The best part of this set is the velcro that allows your child to pretend to cut the fruits and veggies. These kinds of play veggies are of a much higher quality than the flimsy play veggies and fruits you can find without the velcro.

The best part of this deal it the free shipping that comes with it! For all of $6.86, these toys can be shipped to your doorstep.
(Expiry: Unknown)