Please Mum: WaveRider Magic Print Board Short Now $9.95 (Was $29.95)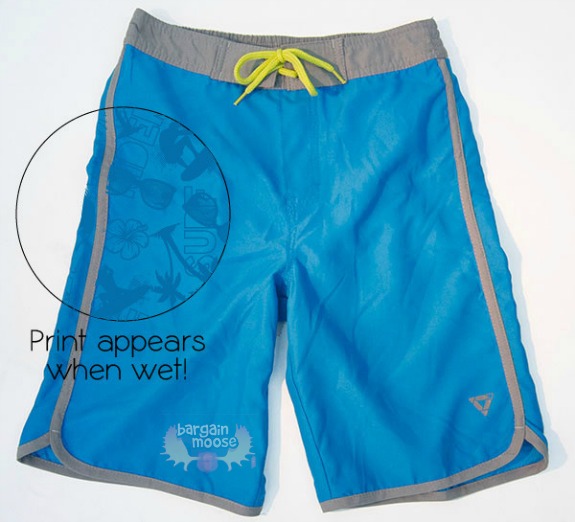 Are you realizing that your children's bathing suits need replacing? Check out the suits at Please Mum such as the WaveRider Chlorine Resistant Magic Print Board Short, which was $29.95 but has been reduced to $9.95! Plus when you spend $75 or more you can save an additional 20% with this coupon code: ADD20. In addition, you will receive free shipping over $75!
Normally I shop for the following year when all the end of season sales are on. To be honest, I'm not sure what happened but I failed to do that for this summer and now I'm finding myself in a pickle. I refuse to buy anything full price, unless it's a hard to find item or the original price fit within our parameters. When it comes to children's clothes, I strongly believe you can get high quality clothes for at least half the original price, if not more.
My seven year old son is borderline able to wear his summer clothes from last year. His t-shirts are pretty good but the shorts, well...let's just say I'm encouraging him to low ride just a tad. His bathing suits are no different and although they are less of a concern, I'm thinking by the end of the summer they will be far too short. So I've been on the hunt for exceptional sales before the end of the season and I stumbled across this amazing deal at Please Mum!
Please Mum is one of those stores that doesn't come to mind right away, but then its like discovering lost treasure! I'm not a big fan of in your face statements on children's clothing and Please Mum always keeps it clean. Therefore, when I came across the WaveRider Chlorine Resistant Magic Print Board Short for $9.95 I was thrilled! Plus it has a little fun for the kids mixed in with the magic print that appears when wet.
Seeing as Please Mum is offering up to 90% off the entire store (plus the additional 20% when you spend over $75), I'm going to pick up these items for my five year old for the fall/spring:
If you are looking for little girl bathing suits, you can't beat this deal on the Flamingo Spirit Chlorine Resistant 1pc Swimsuit for $4.95 (regularly $29.95).
As mentioned, Please Mum offers free shipping across Canada on all orders over $75. Otherwise, shipping starts at $7.95.
(Expiry: unknown)