PlayStation Network: PS Vita Anniversary - FREE and Discounted Games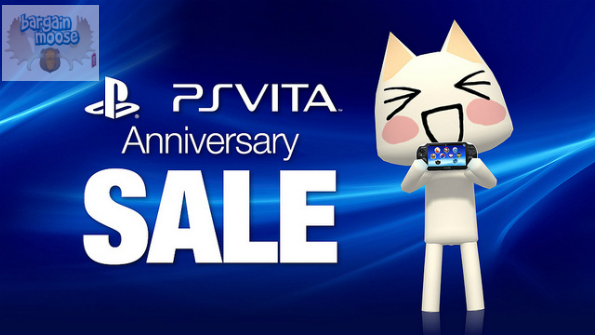 The PS Vita is a great system. All you need to go with it is great games! How about four FREE games and some awesome discounts on twenty other games! Thanks to the PlayStation Network, you can get that deal right now!
This is the PS Vita Anniversary sale and it is awesome. Since the bulk of this deal is a list of stuff you can get, I'm gonna quote directly from the Sony website.
Here are the free games we're giving away for PS Vita:

Wild Arms (PS one Classic)
Patapon (PSP)
Piyotama (PSP)
Patchwork Heroes (PSP)

Here are the PS Vita games that are on sale for a 30% discount. If you're a PlayStation Plus member, you'll get 50% off:

Army Corps of Hell
Big Sky: Infinity
BlazBlue: Continuum Shift Extend
Dokuro
DYNASTY WARRIORS NEXT
Knytt Underground
LEGO Batman 2: DC Super Heroes
LEGO Batman 2: DC Super Heroes French
LEGO Harry Potter: Years 5-7
LEGO Lord of the Rings
Orgarhythm
Pure Chess
Retro City Rampage
Sine Mora (with Trial)
Spy Hunter
Street Fighter X Tekken
Sumioni: Demon Arts
Ultimate Marvel vs. Capcom 3

We also added a few more games to the sale, with the following discounts as noted:

FIFA Soccer 13 (30% off)
Madden NFL 13 (30% off)
Oddworld Strangers Wrath (25% off)
This sale, in conjunction with the spend $50 get $10 back deal I posted yesterday could get you a lot of free credits. If anything, you should get the FREE games. Wild Arms is a great game!
(Expires: 11th March 2013)