Playmobil School Bus Playset $23.99 @ Amazon.ca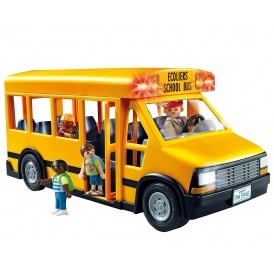 My son has had this toy since he was about a year old, and at four years old today, he still plays with it on a regular basis. It has held up to being ridden around, driven down stairs, living in the sand box and so much more. Right now Amazon.ca has the Playmobil School Bus Playset on sale $23.99 (was $33).
The Playmobil School Bus Playset comes with the school bus, one adult bus-driver figure, and three children that need to be driven to and from school.
The school bus even has front and rear functioning warning lights that are activated by a button on the roof. There is also a working door and the wheels are made of a durable rubber material. The roof comes off so your little one can have fun positioning the students and driver. My son puts all kinds of Characters inside the school bus!
Spend $35 or more to get free shipping from Amazon.ca.