Play-Doh's 60th Birthday! Sets from $2 @ Amazon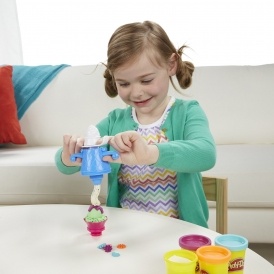 Happy birthday, Play-Doh! The iconic fun stuff is turning 60 and Amazon's Deal of the Day is up to 60% off select sets. Amazon is advertising the 60% off but there are some that are discounted by even more! The fun ever ends with Play-Doh, for kids of all ages, and now you can get some and save some... dough. (Ha!) There are play sets for as low as $1.99, like this Star Wars Landspeeder Can-Head Set.
Now, a few of the items are priced so low that they are 'Add-on Items' (these are clearly marked). This means you can only buy them with an order that will ship free--in other words, you must spend $25 to order those products. But, let me tell you, that won't be hard!
I keep seeing commercials for this Play-Doh Doctor Drill 'N Fill Set and it looks like a lot of fun. It comes with everything the kiddos need to play dentist, including 5 cans of the modeling compound and an electric drill (not an actual drill, of course)! Regularly $24.99, it's just $17.49 today.
I've seen this advertised quite a bit recently, too. The Play-Doh Ice Cream Castle makes swirls of Play-Doh 'soft-serve' that kids can decorate with silly sprinkles and wacky whipped cream. This one includes 6 cans of Play-Doh—two with fun confetti. The Ice Cream Castle is usually $26 but you can snag it for $17.99.
Play-Doh Crazy Cuts is making me a bit nostalgic as I remember playing with something very similar when I was young. It's down from $19 to just $11.93.

As I mentioned, you'll want to spend $25 to receive free shipping from Amazon (and to get some of the great savings of the Add-on items!).