Paw Patrol Toys & Books 20% off (maybe more!) at Chapters.ca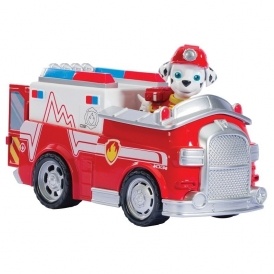 Paw Patrol toys and books are currently 20% off at Chapters so if you were lucky enough to score some Indigo gift cards at 20% off (currently available only at the Real Canadian Superstore or Loblaws locations) then the Paw Patrol toys that you purchase at Chapters will be 36% off of regular retail price.
I've seen this PAW Patrol Monkey Temple Playset at my daughter's friend's house and now my daughter has been hinting about it for Christmas. It's on sale for $55.96 and when I use the Indigo gift cards that I bought at Superstore for 20% off, the actual cost on this adorable set is brought down to $44.77! The reg. price is $69.95.
Race to the ruff-ruff rescue with EMT Marshall! This Paw Patrol Marshall's EMT Truck is on sale for $13.56 With the discounted Indigo gift cards it brings the cost down to $10.85.
This Paw Patrol Paw Patroller is one of the most popular toys this Christmas. This is on sale for $63.96 but if you can use the discounted Indigo gift cards, your total cost is $51.17!
My co-worker Brooke has her eye on Skye's Jungle Copter and we think you'll love it, too! The sale price is $14.36. If you have the discounted Indigo gift cards in hand, it will bring the total cost down to $11.49.

The key in getting these Paw Patrol toys and books at such a low cost will depend on whether or not you were able to get Indigo gift cards at 20% off. Even if not though, the 20% discount on such a wide selection of Paw Patrol products is still a great deal!
Shipping is free if your order is over $25 or you can select to have it shipped to a retail location closest to you.