Only $5.70 - Disney Princess Popup Magic Cinderella's Coach Game @ Amazon Canada! (EXPIRED)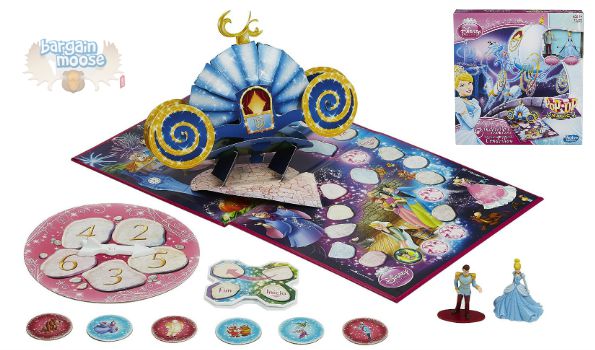 Ding ding ding! I found a great gift for your favourite little girl! Check out the Hasbro Popup Magic Cinderella's Coach Game. This game was $14.99, but now you can grab it for only $5.70. That is saving you 62% off the retail price.
From the moment you open up this game, you can expect it to be magical. Slide open the game board and a full three-dimensional Cinderella's coach pops up in the middle of the game board. This game is intended for two players and is recommended for ages three and up. You can choose to play as the Cinderella or Prince Charming figurine. I can guarantee every time I play this game with my daughter, I am going to be Charming.
Spin the spinner, and then take your character down the path. This game includes several twists such as spots that send you backwards or "friend tokens" that you flip over and can allow you to move further along the path. This board game can be attached to other Popup Magic games for a more enhanced game. Board games like this one are perfect for practicing counting and are great incentives to use as prizes. I like using prizes like this for my kid to earn such as when we were potty training or to positively reinforce some other type of good behavior.
Price Comparison
I could not find this game being sold anywhere in Canada. I did find a similar Disney Princess Pop-Up Magic Castle Game for $24.94 at Walmart.ca. The Magic Castle version of this game is also sold for $24.99 at Toys R Us Canada. The price on the Cinderella game seems just a bit sweeter. Remember the Cinderella game is compatible with this Magic Castle game to extend the fun. If your kid loves the game you could add it to the Magic Castle game too.
Shipping
This game qualifies for Amazon Canada's free super saver shipping when you spend $25. If you have Amazon prime, this game is Amazon Prime compatible. This game also ships directly from Amazon Canada so you can ensure that shipping will be speedy.
Every year during the summertime, I stock up on a few good deals on board games as I see them. Then in the middle of winter, we have a shelf full of entertainment waiting for us. If you have a little princess in your house, you know she will light up when she sees this Cinderella princess game.  To see this game in action, check out this YouTube video that gives a full explanation of the game. It is so cool to see that Cinderella coach pop up off the board.
(Expiry: Unknown)