Num Noms Lip Gloss Truck $42.99 @ Amazon.ca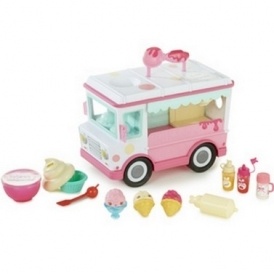 Num Noms are the sweetest thing going this Christmas season. This is by far one of the best presents your child could find under the tree and it will definitely be their favourite gift.
Amazon.ca is selling this for $42.99 and it will include free shipping. In the following link, make sure to select seller 'Amazon.ca' since the link below will present you with a few seller options.

You might want to grab this now because I see the price at Toys R Us is $49.99. Showcase Canada is currently selling it for $59.99.
Kids can make their own lip gloss with a twist - they can pick their own flavor, add sprinkles, mix it up and of course, dispense it from the ice cream machine. The truck has working wheels so kids can wheel it all over town, or at least all throughout the house.
There's a special edition scent included: Scented Num Cherry Scoop, as well as a collectors menu.
Extra bonus - if you buy this set for them you're bound to get some lip gloss for yourself!
Shipping is free!