NHL Mini Hockey Set $49 @ Chapters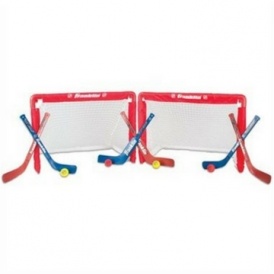 This set may be called mini but there is huge fun to be had with it by all members of the family. And you can get it on sale for $49, down from $69.95 @ Chapters.
Seriously, hours of entertainment will be had playing mini-sticks. And you don't even have to be a big hockey fan to enjoy them. My son loves all things hockey buy my daughter is into anything princess, and even she gets right in there with the mini sticks.
For $49 you get 2 folding mini hockey nets, 2 goalie sticks, 4 player sticks, 4 soft foam 2" mini hockey balls and a drawstring carry bag to pack it all up in.
This would be a great set to have under the tree at Christmas. Not only is it fun, it keeps the kids (and grownups) active!
Shipping will be free since this set is over $25.