NERF Fest Sale on Now from $14.99 @ Amazon.ca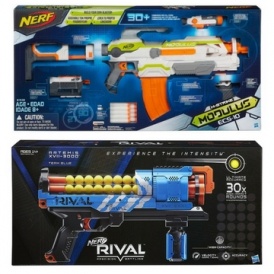 If you're looking for NERF toys this year, you'll want to head to Amazon.ca! Their NERF Fest Sale is on now, and you can score deals on all kinds of blasters and accessories!
One of my nephews has NERF toys at the top of his Christmas list, so I'm definitely going to take full advantage of these sales!
Some discounts, like this NERF Modulus RTecon MKII Blaster ($24 from $39.99), are only available to Amazon Prime members, but you can try a FREE 30-day Prime membership here.
Take a look at these deals:
Orders over $35 ship free.