My First Dollhouse Now $50 @ Walmart.ca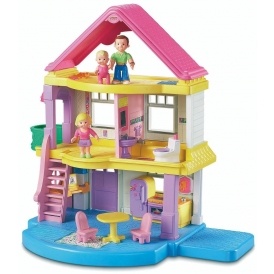 Anytime I see a Fisher-Price toy on sale, I know it's going to be worth checking out. They are the kind of brand that makes toys that are made to last, like their classic farmhouses. This "My First Dollhouse" seems similar to their famous farms, and is now on sale at Walmart for $50. It was originally $69.94.

This Dollhouse is highly rated on the Walmart website. It has a whooping 711 reviews, and a 4.7 out of 5 star average. One user says this is perfect for a toddler:
The pieces in this dollhouse are just the right size for chunky toddler hands. My daughter loves it! It is heavy duty and still looks like new, even after months of play.
If you're looking for high-quality toys, try anything from Fisher-Price. You just can't go wrong in terms of durability with this brand. If you have more than one child that is imporatnt to keep in mind when buying toys. You can even have a couple of kids playing with this dollhouse since it comes with three figurines. Lots of fun to go around!
Since this dollhouse is over $50, it ships for free at your home address.
(Expiry: Unknown)