Monster High Deadluxe High School Bundle $49.99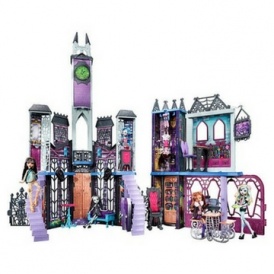 If your kids have every wanted to explore the spooky halls of Monster High, now's their chance! The Monster High Deadluxe High School Bundle is on sale at The Bay, and you can pick one up for $49.99!
This playset normally sells for $199.99, so you're saving $150! It's definitely worth it to pick this set up if you're doing some early Christmas shopping!
The Monster High castle itself is huge, so there's plenty of room for all your kids' Monster High dolls and accessories!
Your kiddos can spend the day playing (I mean studying) in the library, and then head to the front hallway, which doubles as a party room! It has a radio booth and even tentacles that pop out of a locker to make a seat!
Plus, when you open the clocktower, you'll reveal Headmistress Bloodgood's office!
Each set includes two dolls (which may vary), and you can find more dolls on sale from $19.99 each!
This set will ship for free if you check out with your HBC Credit Card. Otherwise, you'll receive free shipping if you spend over $99.