Mastermind Toys Canada Brio Railway Sale: Save up to 40%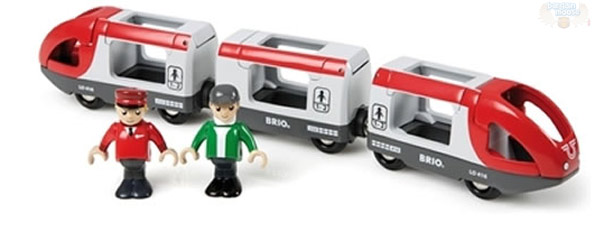 Mastermind Toys Canada is having a sale on Brio Railway toys, offering up to 40% discount.
I don't know a toddler alive who doesn't love wooden train sets. All of my kids and their friends flock to our wooden train set. When my kids are at places and there is a train set, they are playing with it. Although I wanted to throw every piece of wooden track across the room many times putting the set together after losing the instructions, the joy it brings to my kids is well worth it. Not to mention the activity my brain is getting trying to figure this out.
The Brio set is quite cute and very realistic. Starting in 1958, they say they are the first wooden train set maker.
If you need an entire set, this is a great deal at $60 off. The Deluxe Railway Set includes a complete metro city with roads and harbours and city trains. There are 87 pieces and a storage box, along with pieces with lights and sounds. Now only $239.96, regularly $299.95.
Looking for just a train to add to your existing set? The Mighty Red Locomotive is classic. It has a functioning motor and headlights, with realistic sounds. Regularly $27.95, now only $19.57.
A new interactive station is always fun. The Record and Play Station lets you record and play messages so you can make announcements! It also features pre-recorded engine sounds, a station light and rotating sign. Regularly $64.95, now only $45.97.
I also love the look of these sleek Travel Trains that come with a driver and passenger. Now only $19.57, regularly $27.95.
Get free shipping on orders of $60 or more.
Expiry: 5th February 2013