Mastermind Toys: 40% Off Select Toys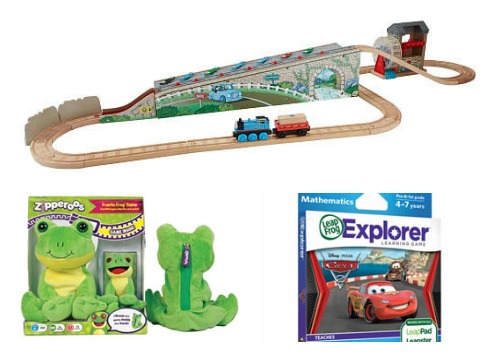 Do you know any kids with a birthday coming up this year? We thought you might say yes! Buying gifts for the kids in your life, may they be your own, your own friend's children or family members, can be a pretty daunting task when you don't know where to start. Let me help you! Mastermind Toys currently has a 40% off sale on select toys for all age groups. To top it all off, they always offer to take 15$ off of your shipping costs on purchases higher than $60, meaning if your shipping originally was less than $15, it will be free!
Is there a better feeling in the world than seeing a child ecstatic with joy open opening a brand new toy? I don't think so! There is no better time to stock up on gifts for birthdays and special occasions than now with prices as low as $3.25 (for this Siku BMW 545i model, which was $6.49 originally). The sale includes some amazing educational products for the younger minds, such as LeapFrog Leapster Explorer Cars 2 Learning Game (was $34.99 now $17.49), the hand-eye co-ordination game Zipperoos Frantic Frog (was $19.99 now $9.99)  and the Tolo Teatime Shape Sorter (was $39.99 now $19.99). Are you looking for something smaller to gift your child with? Don't worry about a thing, because this Mastermind Toys sale also includes stuffed toys for kids of all ages, ranging from $3.99 to $16.49. Needless to say, you won't be running out of options with this amazing sale!
Here are a few of the greatest deals featured in this Mastermind Toys sale:
With deals as amazing as $65 off of a track set, count me in! This is a great time to stock up on some early presents for the rest of the year for any child. Plus, as previously mentioned, if your purchase is over $60, shipping if free. If it costs more than $15 to get your items shipped, Mastermind Toys will still give you a 15$ credit, taking that amount off of your shipping costs anyway! This applies for both regular and express shipping, and is applicable to all items, sale included. With that in mind, there is no better time to put in an order at Mastermind Toys than today.
(Expiry: Unknown)