Mac App Store: Duke Nukem Forever Now $10 + 2 Free DLCs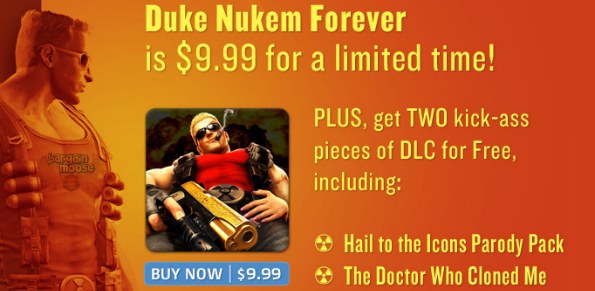 If you are a Mac gamer, be sure to take advantage of this deal. The Mac App Store has Duke Nukem Forever now for only $9.99. You also get two free DLCs: the Hail to the Icons Parody Pack and the Doctor Who Cloned Me DLC.
Not a bad deal for such a popular game, and the extra DLCs (downloadable content) is rather sweet. I love getting DLCs for my various games, a few months ago I totally loaded up on Civ V DLCs.
Lets price compare. To buy this game on Steam right now would cost you $19.99 and each DLC would cost an additional $9.99. That means this pretty much a $40 value you are getting for $10!
I have never played Duke Nukem Forever, have you?
Expiry: 19th, April 2012