Mabels Labels: 50% off Pirate Ship & Skull 'n' Crossbones Sticky Labels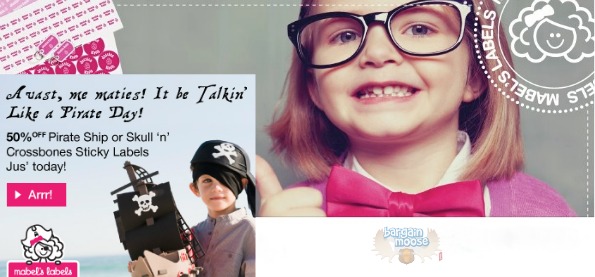 Arrr Mateys!! If you were not aware, today is "Talk Like a Pirate Day" across Canada and the US.  Mabels Labels is celebrating with an incredible deal.  Save 50% on all pirate ship and skull & crossbones sticky labels today only.
This is the first time they are offering this promotion for Talk Like a Pirate Day. These sticky labels are dishwasher safe, washable and durable.  They are perfect for kids for back to school.  No more lost kids clothing, no more lost Tupperware, no more lost books.  All you have to do is label your kids items with these fun pirate labels and no more mistaking whose items are whose.
As for the cost of shipping, you will get free shipping on all orders mo matter how much you buy.
If you are looking for more Talk like a Pirate Day deals, check out the freebie at Krispy Kreme Donughnuts you can get.
(Expiry: 19th September 2013)