LEGO Classic Creative Building Set Now only $28 @ Walmart.ca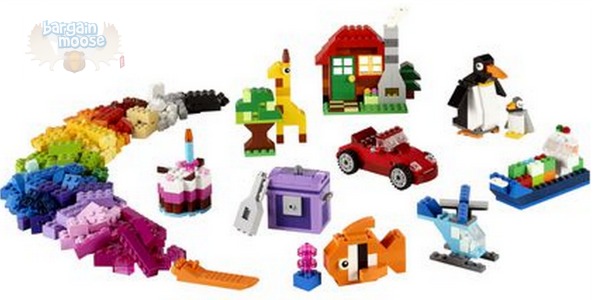 I love all of the LEGO kits, but I secretly have the most fun when the kiddo and I create our own projects with our imagination. Right now, you can pick up the Lego Classic Creative Building Set now for only $28.
Jumpstart your kid's creativity by adding a huge set of basic pieces into your kids Lego collection. This large kit includes 580 pieces and should provide hours of fun. Not only will you find the basic bricks in 37 different colours inside, this kit also includes some fun items such as doors, eyes and wheels. Wheels are one of my favourite pieces, I love making Lego cars and other vehicles that can really move. We load up our little 2" character statues on our Lego cars, and Elmo and Tinkerbell race all the time at our house.
Price Comparison
I found a very similar box of Legos available at Chapters Indigo for $59.95. It has all of the same pieces, but also includes a plastic case. Toys R Us Canada has a very similar creative building set with the same number of pieces for $59.99, also including a plastic case. Amazon Canada is carrying the same set including the box for $59.95. Lego Canada has a smaller box available that includes only 484 pieces for $34.99. The next larger box has 790 pieces for $59.99.
Shipping
Shipping at Walmart is cheap, only $4.97 for your order. You could also receive free shipping if your order is a minimum of $50. That minimum for free shipping is easy to achieve if you buy two of these boxes. If you only need one for your kiddo, stow one away for your next birthday party you are invited to. You also have the option to send these Legos to any Canada Post location for free shipping. If you are in Ontario, you also have the option to stow this in the free lockers at Walmart.ca for free shipping.
A little bird told me these sets are a special item that will only be around for a limited amount of time. It may seem early for Christmas gifts now, but these kits do stow away easily for holiday gifts. I have a birthday party my daughter is going to in a few weekends and I think this will be our present.
(Expiry: Unknown)