Kushies Birdcage LED Night Light Now $25 @ Best Buy Canada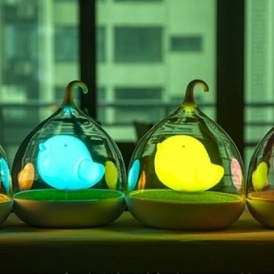 Omg! Omg. This has to be the cutest night light I have ever spotted. Is it bad that I want one for myself? Right now you can get the Kushies Birdcage LED Night Light for $6 off at BestBuy.ca - so you'll pay just $24.99. I doubt you will be able to pass this item by. It is great for kids or adults who are young at heart.
This Bird Sensor Rechargeable USB Night Light is rechargeable and even comes with the cable and wall block. The cute light up bird is multi-functional and would be absolutely fab in the kids' room or even in the bathroom. If you are young at heart like myself, then you may even want this cute light for your own bedroom.
On one charge, these cute little birds will offer up to 15 hours of illumination. They don't even get hot to the touch, so it is safest around even the youngest kiddos. It doesn't use much power, so won't rack up any bills and it has three different modes as well as 2 levels of brightness which can be adjusted by just tapping on the birdcage. Tweet, tweet!
Add something small to your cart and get free shipping on orders over $25 as well - you're only a cent away! Maybe check out The Baby Event to see if there are any other discounts you can score.