Kinetic Sand Build Ice Castle Now $15 @ Walmart.ca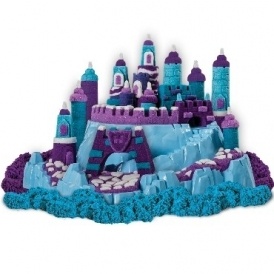 Kinetic Sand is great - the kids can use their imagination to build things that they could normally only build at the beach, but now they can even build indoors. Kinetic Sand has been a hit with my little guy for sure, so I definitely suggest you get your hands on this clearance deal at Walmart.ca. While supplies last you can get your hands on this Kinetic Sand Build Ice Castle for half price - just $15.
Use the Kinetic Sand to build a fabulous ice castle. Watch your kids imagination spring to life with shaping tools and 7 different molds. They can sculpt bricks, build the castle on a mountain, or whatever their heart desires. Create archways, towers, and even a path for the princess to walk on. There are 3 icy colours included, and if you are brave you can mix them together to create a new colour.
Kinetic Sand never dries out, is easy to clean up and easy to build with. It doesn't require any water for building and won't leave your child's hand all gritty (with dirt under their nails!). This will be great under the Christmas tree this year, and it will keep the kiddos occupied indoors on those cold (and icy) days.
Walmart has a few different shipping options. For orders over $50 you will receive free shipping right to your front door. For orders over $25, you can opt for free in-store pickup or free shipping to your local Canada Post Office. For orders under $25, they will incur a $5 fee for that option.