KidKraft Princess Castle Was $130 | Now $65 @ Chapters.ca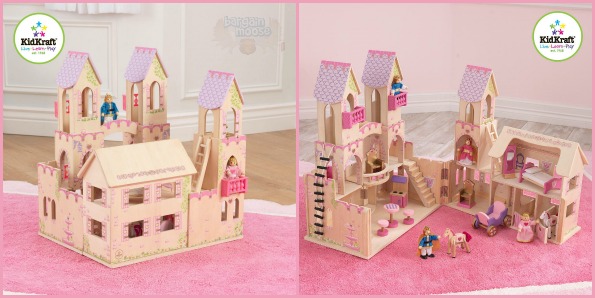 Chapters Indigo is selling the KidKraft Princess Castle for 50% off. Originally $129.95, the castle is on sale for only $65. Note that the castle does not qualify for free shipping as this is an oversized / overweight item. You will need to pay for shipping, which varies depending on location.
Price comparing this unit was quite difficult, as I could not really find them in Canada. Here is what I dug up:
$117.94 @ Overstock
$99.99 US @ Toys R Us.com
$68.99 US @ Amazon.com
$129.77 + outrageous shipping @ Amazon Canada
$74.50 US @ Walmart.com
As you can see, prices differ widely on this product. Most of my price comparisons are in the US and do not include shipping prices or duty. I found a similar looking wooden toy castle made by Melissa & Doug for $79.99 @ Amazon Canada. That is also a fair price comparison as they are both wood and look quite similar. Either way, the Chapters deal was better than anything else I found.
This castle is made of wood and is decorated to fit a princess. It comes with four wooden dolls: a king, a queen, a prince and a princess. There are fourteen accessories including a couple of thrones and horses.
Reviews on Amazon praise this set and many people say it is superior to the Melissa & Doug set. This reviewer explained:
Bought the Melissa and Doug castle and returned it when I found this one that was $20 cheaper (before Christmas), came with furniture and dolls and was the same quality but this one has cuter details on it and balconies and a bell in one tower! Also, the Melissa and Doug castle was more enclosed and it didn't seem like there was room to play pretend and get even the tiniest of hands in there with furniture.
Most reviewers love the detachable ladder and towers. You can rearrange them, as you like. In addition, this castle unlike many others comes with figures and furniture. While your child may have other toys and dolls that they want to use in the castle, these additional accessories will be fun to combine with your child's current toys.
When you go to checkout, Chapters indigo will automatically choose premium shipping - the most expensive form. Be sure to change that shipping to standard, it is about half the price of premium.
(Expiry: Unknown)