Imaginext Supernova Battle Rover Was $130 | Now $64 & Free Shipping @ Walmart Canada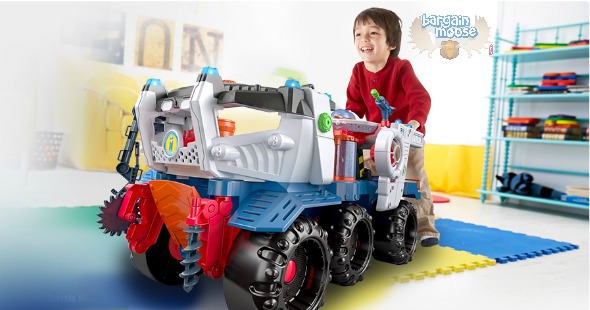 Your little one can enjoy the ultimate outer space experience with the Imaginext Supernova Battle Rover. This popular toy would normally cost you around $130, but for a limited time Walmart Canada has the Supernova Battle Rover for just $64. This price also includes shipping, like usual, from Walmart.ca.
This 2-in-1 Supernova Battle Rover is a giant playset as well as a vehicle. It even boasts a removable space shuttle. This Imaginext toy seems to be super popular among boys, so why not get it for half price? Walmart.ca has this Imaginext Supernova Battle Rover for just $64 instead of $130 while supplies last.
Your young space explorer will have endless hours of fun with the Imaginext Supernova Battle Rover. Are you ready for some great adventures? This vehicle playset includes projectiles, disk launchers, alien detecting chamber, three figurines, a small vehicle, 19 lights and about 200 unique sounds. You will even get a transforming and removable space shuttle that has launchers of it's very own. The control panel is completely activated by your kid including the saw blade, crane and pull out blade.
This Imaginext Supernova Battle Rover won't be found cheaper anywhere else. Actually, most other Canadian retailers are selling this toy at double the price. Here is a quick peek at my price comparisons:
This particular model claims to be "sounds only" but I was honestly not able to find any difference between this model and the regular model. All accessories included remain the same, the only difference I can picture is that maybe no words are spoken with this model so that it would be bilingual. This toy will even interact with other Imaginext play sets that your little one may have.
Here is one of the customer reviews for this Imaginext Supernova Battle Rover:
My son LOVES this Imaginext Supernova Battle Rover toy! However, it is quite loud - be warned! lol so many little nooks & crannies to discover on this. Well thought out toy and very well made.
Walmart Canada even offers free shipping with no minimum purchase. This is especially wonderful because you won't even have to leave the comfort of your home to order this item. I appreciate ordering online from Walmart.ca when I need to get a gift for my son or a relative but don't want them to see. Considering I have my son at my side usually, shopping for his birthday and keeping the gift a surprise can be difficult. Walmart Canada solves that.
(Expiry: Unknown)