Imaginarium Draw & Display Easel Now $35 @ Toys R Us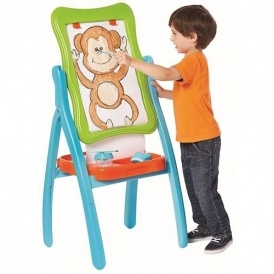 Do you have a little artist in your family? Toys R Us has this Imaginarium Draw & Display Easel on sale for $34.97, which is half of its original price of $69.99. I think this price is amazing, I was recently looking at a Melissa & Dough easel for about $80. I'd much rather be spending $35!

This colorful easel comes with two paint cups, an eraser and two paint brushes. The paper roll down the easel so your child can make individual paintings to stick on the fridge. Easels that come with a roll of paper instead of a chalkboard and a whiteboard are a much better option. Why? Kids tend to draw on the white board with markers that are not made for the white board surface. I'm speaking from experience here, Moosers. If I could go back I would purchase something like this instead of the dual chalkboard and whiteboard easel I bought for my son.
This is suppose to be for painting, but who says this can't be used for coloring? If your child's coloring material is always scattered around, you could also use and easel like this one.

If you spend more than $50 at Toys R Us online, shipping is free! You can also get your order shipped for free, at your local Toys R Us store.

(Expiry: March 20th 2016)