*HOT* LEGO City Police - Crook Pursuit Only $5 @ Walmart.ca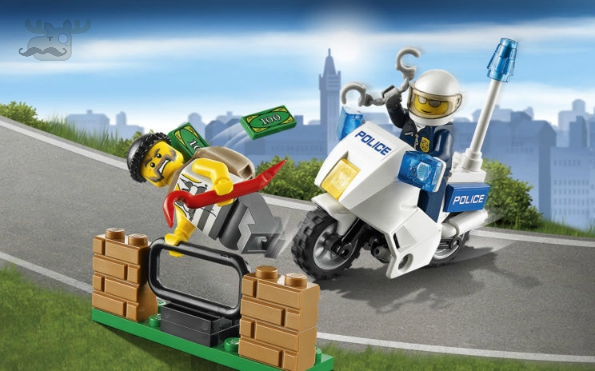 I have this obsession with small - but cool - things that fit into stockings. I am back again with a LEGO City Police - Crook Pursuit (60041) set on sale from $8.86 down to just $5 at Walmart Canada. For a 38-piece LEGO set, this is a great price and a nice stocking stuffer for Christmas. Get your new LEGO set shipped to your local Canada Post outlet for free (or a Grab & Go location).
This LEGO set is actually 44% off its original price, which is a great deal for anything LEGO. The price is also fantastic for families on a budget that want to buy name brand LEGO for their children instead of other brands. In this LEGO set you will receive:
crook and policeman mini figures
a police motorbike
a wall/fence section
crowbar, handcuffs, two money notes, and a backpack
This is everything you need to play cops and robbers with your new LEGO set. Are you going to be the policeman and catch the crook before he goes over the fence? Alternatively, are you going to be the crook who jumps the fence and gets away with the loot? Either way, you will have a lot of fun with this little set. My favourite feature is the LEGO police motorbike. I always liked motorbikes and cars for my LEGO mini figures to ride on. They are a lot of fun.
There are many positive reviews on Walmart Canada (imported from LEGO) including this one:
It was the first lego I've bought to my son. It's very affordable and fun. The tail light of the bike makes it look cool, but we have to be very careful, because it falls very easy, but it's just the way we grab it.
Now the set is only $5, which makes it even more affordable! The same set currently costs $8.95 at Chapters Indigo Canada and $9.99 at Toys R Us Canada. If you compare this deal to Toys R Us, then the set is more like 50% off. Either way, this is a fun little set at a great price. I expect it will sell out quickly.
(Expiry: Unknown)