Hexbug Nano V2 was $10 now only $1.96 & Free Shipping @ The Source!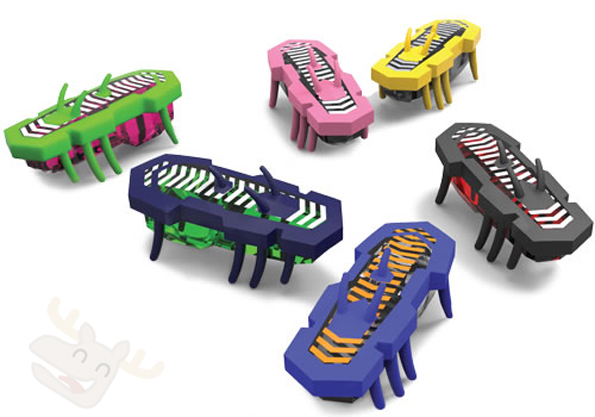 The other day, Avigayil wrote a deal here on the Hexbug Nano and it got quite a bit of interest on our Facebook page too, with many people making an order. While that deal is still available, I've found a superb price on an alternative model of Hexbug – the Nano V2. This item was originally priced at $9.99, but in the clearance section, it's now only $1.96! And you can use the same method for free home shipping – coupon code TS499 for free standard shipping.
UPDATE - it's now OUT OF STOCK online!
Here's a screenshot at the end of checkout to show you the final price with the free shipping coupon code applied:

Make sure that you choose STANDARD shipping when checking out with this coupon code. If you choose express shipping when checking out (which is very easy to hit by accident), you'd be charged extra for shipping.
The image I have used in the post above shows you various colours of Hexbug - but it's not clear which colour you will be getting from The Source. From the image on there, it looks grey or black.
Let's take a look at pricing of Hexbugs elsewhere. To buy one single Hexbug Nano V2 like this will cost you anything between $9 at Scholar's Choice and Toys R Us to $12 at Mastermind Toys. The price from The Source is tremendous. It's so great that you could probably buy 5 of the things!
It wasn't until I was price comparing for this deal that I realised there were lots of accessories to Hexbugs, rather than just the little gadgets themselves. You can buy enclosures in which they can run around, kind of like ant farms. For example, this Hexbug Nano V2 Bug Infinity Loop Tower Set is priced at $38 on Amazon. And the Nano sets are compatible with each other – meaning you can join them up to make larger sets.
While Avigayil was looking at Hexbugs from the perspective of entertaining her cat, I'd be more of the mindset of using Hexbugs to entertain my kids! I think young kids would love these things.
(Expires: unknown)