(Half Price) Little Tikes Cook 'n Store Kitchen Playset now only $35 @ Walmart! (EXPIRED)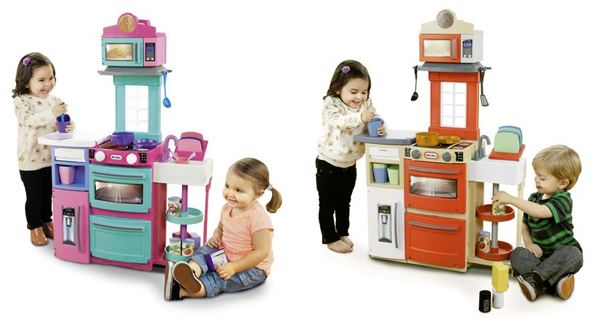 If you know someone who has a toy kitchen on their Christmas shopping list this year, perhaps your own child or the child of a friend, then have a glance at this deal on a kitchen playset from Walmart today. The pretty Little Tikes Cook 'n Store Kitchen Playset is now half price there – down from $69.93 to only $35!! This is a really super price for what you are getting. It's one of today's Walmart Black Friday offers.
The kitchen comes in a choice of two colours – red or pink. It's nice that it's not just pink! There are many little boys who love playing with toy kitchens too, so the red one might be a good bet for that. And this is a note about the accessories:
Comes with 32 accessories including plates, cups, silverware, pans, cooking utensils, and play goods and spices
That sounds great, for what you are paying!
There are only 6 reviews for this kitchen playset on the Walmart site, but they're mostly positive – with most people giving it 4 stars out of 5. People stated that it was a great little toy, nice and compact – but then this was a negative aspect from one parent. They stated that no more than 2 kids at a time could play with it, when standing side by side…. Well, this would be pretty obvious, no? It's not a huge kitchen; it's a fairly basic toy from Little Tikes so I think it's perfect for the price.
Elsewhere in Canada, this Little Tikes kitchen playset isn't sold by many other retailers. I did spot it for $70 on Amazon and $80 on Toys R Us – so I honestly think that the Walmart price is pretty fantastic!
As for shipping to your home – it's not free if you buy this Little Tikes kitchen on its own. You'd have to spend $50 or more to get free home shipping. Alternatively, you can order this kitchen online and collect it for free at a local Walmart or Canada Post location – that's a very handy option too.
(Expires: unknown – though prices on Walmart seem to change very fast indeed – if you're interested – buy now)