Grand River Toys Canada: Spend $50 For $1 Shipping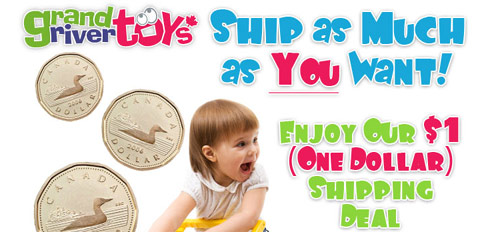 There's a special shipping promotion happening online at Grand River Toys Canada. Any order over $50 is entitled to shipping for $1!
Normally, shipping on an order of $50 would be a flat rate of $4, plus between 6% and 12% of the order total (depending where you live). E.g. A $50 order to BC would cost $10 in shipping fees, so this is a fairly good offer.
Some examples of where the $1 shipping might apply:
60 piece hardwood block set for $79.99 - this is a gorgeous wooden building block set - I love this kind of toy.
Deluxe standing easel for $79.99 - I used to play with this kind of thing at school and always wanted one for myself!
Giant Tyrannosaurus Rex for $107.99 - how great is that! I want one! It's a "build your own" T-rex skeleton - perfect for your budding little palaeontologist.
(Ends 16th June 2010)