Get Fisher Price Toys up to 75% Off @ Amazon.ca!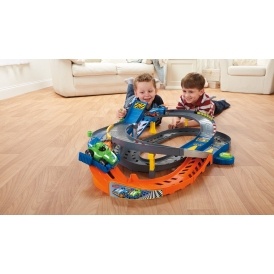 I was having my usual browse through the deals on Amazon.ca, and I found these stellar offers! Right now you can shop for Fisher Price toys and get up to 75% off select toys. There are toys for as low as $3, but the greater discounts are found with the items that are a bit pricier. Spend $25 to get free shipping from Amazon Canada too!
With a three-year old boy running around my house, the first Fisher Price toy on sale that caught my eye had to be the Fisher Price Shake 'n Go Spinout Speedway. This set is on sale for 68% off the regular price, so you will end up paying just $19.13. This set includes 2 Shake 'n Go cars with fun sounds. The more your kiddo shakes them, the further they will drive. This sounds like a great toy for kids between the ages of 1 and 3.
Another cute toy on sale is the Fisher Price Roller Blocks Rocking Wagon Baby Toy. This toy is on sale for 55% off, so you will pay only $17.93 for a limited time. This toy will grow with your little one. In the Sit & Play mode, your baby can stack the roller blocks and learn to improve their hand-eye coordination. In the Stand & Pull mode your baby will be encouraged to walk and will be rewarded with adorable music.
If you have a younger tot, then you may also be interested in the Fisher Price Spinnyos Racin' Chasin' Super Slide Toy which is 50% off. This neat little toy is priced at $15.08 right now, and I think any kiddo between 1 and 3 will enjoy this one. Use the launcher to send the "YOs" racing all around the track.
There is also a Little People set on sale - woo! Snag the Fisher Price Little People Happy Sounds Home. This one is definitely going to sell out fast, especially at 50% off. For just $19.97 you will get a great Little People starter set or even an addition to your child's current collection.
Amazon Canada offers free shipping on orders over $25, just be sure that the item you select is in fact shipped and sold by Amazon.ca before adding it to your cart. Some of the items with big discounts are not shipped and sold by Amazon, and thus have hefty shipping charges.
(Expiry: Unknown)