FurReal Friends Pax My Poopin Pup $32.95 @ Amazon.ca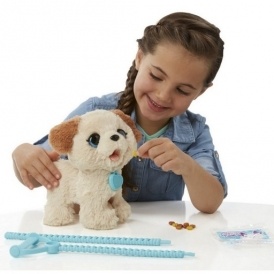 Kids have always been fascinated with playing with dolls that can eat, pee and poop like a real baby. Hasbro has taken this to a more adorable side, where your child can have a cute puppy that will eat and poop. Pax, from the FurReal Friends lineup is selling for $32.95 @ Amazon.ca on sale from $34.99. Currently Toys R Us is selling Pax for $39.99.
It's fun to take care of Pax like a real puppy. Pax, My Poopin' Pup toy is a hungry little guy. Feed him his treats one at a time, then take him for a walk. Uh-oh, he's gotta go! Pull back on the leash and he'll sit… release the leash and see what he's left behind. Pick it up with the included bag.

Shipping is free if your order is over $35 or if you're a Prime member. Otherwise shipping will start at $7.
If you like this, you may like these...