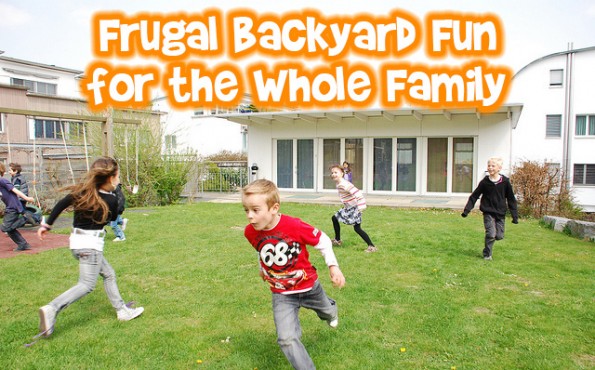 With spring in full swing, and summer just around the corner, it's time to start thinking about how to occupy the kids during their long summer break. Taking them on road trips or to the waterslides are always fun things to do, but here are a few cheaper ideas to keep them entertained for hours right in your backyard.
Tree Stump Tic-Tac-Toe
When I was growing up there was this huge tree stump in the middle of my family's backyard. I sure wish we had thought to convert it into a giant outdoor tic-tac-toe board as shown on DIY Follow. All you need is a sharpie, a few rocks, some paint, and you've got hours of fun for practically free.

Stone Hopscotch Course
Do you have stone or cement steps in on your front and back lawn? All you need is a bit of chalk (or paint if you want to make it more permanent) to turn those boring steps into your very own hopscotch course.
Wooden Pallet Lemonade Stand
I, like many other people I'm sure, have such fond memories of manning my own lemonade stand as a kid on hot summer days. That being said, none of my lemonade stands ever looked as cool as this one. Jill from the blog I Know the Plans I Have for You shares step-by-step instructions on how to build your own lemonade stand with a just few wooden pallets, some paint, and a bit of elbow grease. With this impressive set up, I think kids will be able to charge customers more than the standard 25 cents per glass.

Kiddie Car Wash
Sprinklers are great if you don't have a pool and the kids want to cool off, but why not go one step further and build your own kiddie car wash? Amanda from A Few Short Cuts gives detailed instructions on how to make one in your own backyard, and even better she also includes frugal building tips too.

Princess Castle
If camping isn't an option this summer, how about some glamping in your backyard? This would have been a dream for my sisters and I when we were younger, so if you have some little princesses in your family, you may want to take a page out of Lorraine from I Kat Bag's book.

Outdoor Twister
Last but not least, if there's a patch of grass you don't mind painting for the season, this outdoor twister idea will take you a just few minutes to make while giving you endless fun for the whole family. Don't have a twister spinner handy? Not a problem. You can download the app for iOS for just $0.99 or for Android for free.

Bargainmoosers, what fun backyard activities do you do with your family in the summer?
(Image credit: ND Strupler)