From $3! 20% Off Selected Outdoor Toys @ Chapters Indigo Canada!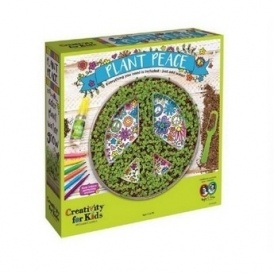 Chapters Indigo Canada is offering 20% off of a selection of Outdoor Toys. When I browsed through the website, besides noticing that they have a large selection of sale toys, I noticed some unique toys that I've not seen elsewhere.
This Creativity for Kids Plant Peace Indoor Garden Kit will allow your kids to grow a little garden of peace. It's cool because it includes a planting tray, colour-in liner, potting mix, scoop, chia seeds, markers and a plant mister. This is a good preliminary lesson for future gardening. I would take it a step further after it grows. I would get the kids to plant tiny dollhouse furniture in it, and some little LEGO characters and props to create interesting scenes. (I would probably takes some pictures and videos while my cat tried to fish the LEGO characters out of the plants.) Anyway, this Peace Indoor Garden Kit is on sale for $24, down from $30.
I want to own this Dome Terrarium - Desert Biodome Terrarium! The sale price is $20, down from $25, and you can grow over 25 different fascinating and unusual plants. Cacti and Succulents will start sprouting in under a week. The more you water them the more they will grow. This dome can thrive for years by watering only 2-3 times per year. There are several other varieties selling at the same price, a Butterfly Glamour Garden, where you can attract hummingbirds and butterflies after actually glamming it up with sparkly gems, and a Dinosaur Dome (yes, mountains and lava will be in this kit!)

You will definitely find something you like in this sale!
Shipping is free on orders over $25, and shipping to a Chapters Indigo retail store of your choice with no minimum purchase is free. Otherwise, shipping starts at around $7 or so.
(Deal expiry: June 8, 2016)