Free Play Day Event June 20th Including Star Wars, Paw Patrol, Jurassic World & Minions @ ToysRUs Canada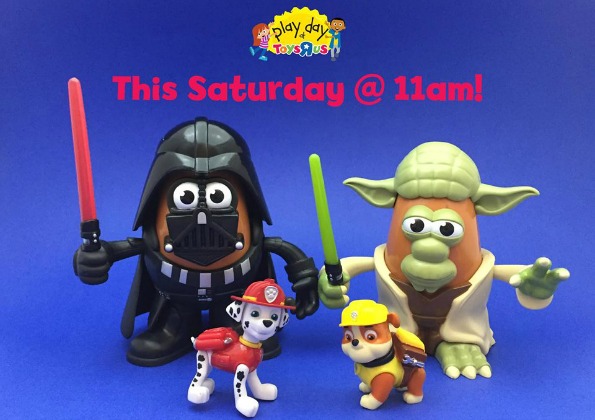 Calling all Bargainmoosers who have a mini moose or three! Toys R Us Canada is having a great free event starting at 11 am all across Canada on Saturday June 20th. This is the perfect way to spend a little family time and have a bit of fun.
Toys R Us Canada is having a fantastic play day event designed for kids 3 and up this Saturday June 20th. This event is taking place at all locations across Canada, with the exception of the Cedarbrae Mall location and all express stores. There is a nice line up planned of crafts, games and demos plus some freebie giveaways. All of the activities start at 11 am and supplies may be limited. I would suggest getting there early, as every other ToysRUs Canada event I have ever heard about was fun but busy with families. Plus by getting there early, you have a better chance at scoring some freebies.
Here is some of the line-up you can expect. There is a caveat that activates may vary a bit from store to store, so check with your local store for specific details.
Star Wars Father's Day Station
Face off with kid versus dad in your best lightsaber pose. Then Klutz is providing Star Wars flyers you can make, plus some additional fun. You will want your camera for this one!
Jurassic World and Minions Games
Hasbro is providing some fun games with both a Jurassic World and a Minions theme.
Doh Vinci Craft
While supplies last, you can make your own creation out of Doh Vinci. Get crafty kids!
Paw Patrol Station
This description is a little vague, but it does say that kids will be able to play with their favourite Paw Patrol characters. I do not know if that means Paw Patrol Mascots will be there or not, so I would not make any promises if your kids. I know Paw Patrol is hot with the preschool age these days! There are also some Paw Patrol Activity sheets planned.
Toy Station
Test out some of the latest toys including the brand new MiPosaur. This remote controlled dinosaur looks awesome, and you will get test it out free. Also available to play with are some new outside toys from Zing including Firetek and Zombie Slayers
So Bargainmoosers, what station are you going to try out first?
(Expiry: 20th June 2015)