Free Lego Duck With Lego Duplo Purchase @ Lego.com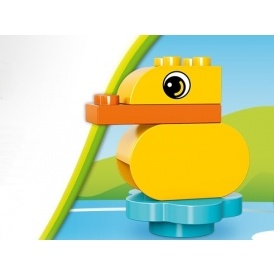 Lego is a timeless toy for kids (and adults) of all ages. Lego currently has an extra gift for you with any Duplo Lego purchase; a Duplo duck! With Duplo items at prices as low as $13, and ranging from pet themed to career themed, your little one will find a brand new toy that will leave them entirely thrilled.
Legos have always been a great source of entertainment for children and parents alike, but it is far more than just that. Legos develop your child's fine motor skills as well as reasoning skills. Of course, to top it all off, Legos do wonders for your child's imagination. Sure, maybe the box said to build a school, but doesn't their creation look so much better?! We sure think so. With the help of Legos, your child also has a chance to work on their colors and shapes. It really is an over-all great toy to begin with, but an even better option when you pair it with today's deal.
Shipping on Lego toys are based on the final price. You can see their guidelines here
(Expiry: Unknown)