Free Gifts with $50 Toy Purchase @ Future Shop ($10 Value)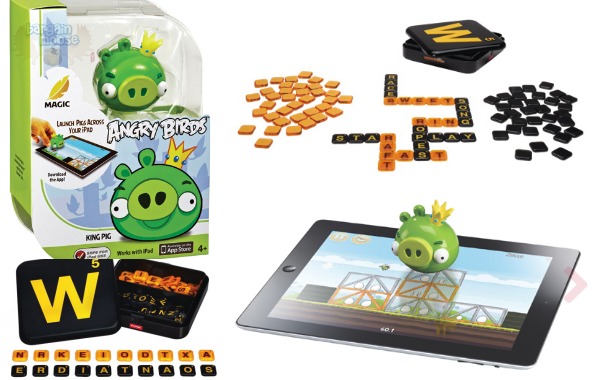 Score two free gifts valued at $4.99 each when you spend $50 or more on toys at Future Shop Canada.
I love getting free stuff when I buy items, so having two gifts with a $50 toy purchase is really cool. You will need to add both of these items to your cart so they can be discounted at checkout.
These are your two free gifts:
Mattel Apptivity Angry Birds King Pig - $4.99 value
This single pack includes an iPad conductive base and the Angry Birds King Pig. With it, you can use them with the associated Angry Birds iPad app to launch your piggy across the screen. A fun little toy like this would make a great stocking-stuffer.
Words With Friends Race Board Game - $4.99 value
My husband is a Words with Friends addict, so I understand the appeal of this fun little freebie. No board is needed in this speed version of Words with Friends, just play words as fast as you can with the 100 tiles included. Tiles come in two different colours so it is easy to tell who made what word. Store them in the included tin.
Now that you have seen your free items, let us check out some toy deals.
This Star Wars Mini Lightsaber Dark Side Detector was $19.95, and is now on sale for $9.95. It is a fun toy where you get to build your own mini light saber. If you belong to the light side, your saber will be blue. If you belong to the dark side, then your light saber will turn red.
Looking for an awesome party game based on your favourite geek show? Pick up Cryptozoic Big Bang Theory Board Game for just $9.99, saving you $20! The same game is $35.92 at Walmart so you are scoring quite the deal. Only 10 are left in stock.
For the lovely young women, this Mega Bloks Barbie Build n' Style Convertible is just $9.99, originally $19.99. Combine it with some of the other deals above and your cart is getting close to that $50 minimum while you are saving a bundle on toys.
For children a bit too young for regular Lego, pick them this LEGO DUPLO Brick Box for just $12.99, originally $17.99. There are 31 pieces including a cat figurine and a dog figurine.
I also think that the Little Tikes Jelly Bean Racer is about the cutest thing ever. It is available in red (see previous link), Green, Orange, or Pink. Originally $22.99, they are now on sale for $15.99. These all cost $19.94 at Walmart Canada right now.
Receive free shipping on orders of $25 or more.
(Expiry: Unknown)