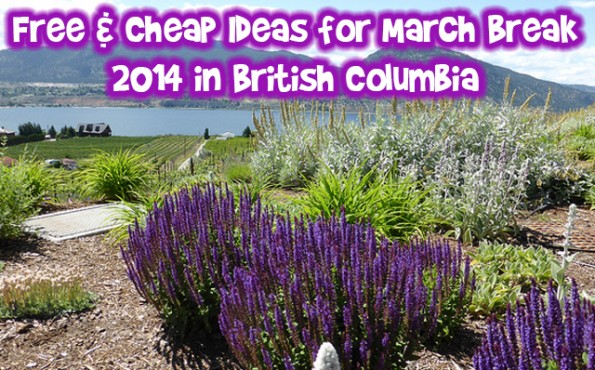 Since Eva did such a great job with her post on Free & Discounted Ideas For March Break 2014 in Ontario, as a born and bred British Columbian, I thought it would be a good idea to mention some March Break ideas for all of you West Coasters to take advantage of. For school districts in BC, March Break starts on March 17th and ends on the 28th, however in Victoria it goes from March 10th – 21st. In any case, if you want to make the most of your time off with your family without having to go on an expensive trip or spending $100 on exciting attractions, you might want to check out one of these cheap or free things to do this March Break.
Go For a Hike!
Unlike many other provinces in Canada, BC is relatively warm and free of snow in March, making it a great time to get outside for some fresh air and exercise. If you really want to tire your kids out (and yourself for that matter), try doing the Grouse Grind!  Known to locals as "Mother Nature's Stairmaster," this hiking trail is so popular, over 100,000 people do it each year. The hike up is completely free and the gondola back down costs only $10 per person. If you're looking for a less arduous but still rewarding hike, check out Trails BC for a list of great hiking trails throughout British Columbia, or Vancouver Trails for hiking areas around the Lower Mainland.
Appreciate the Arts
Art is such an important thing to introduce into your kids' lives, and luckily during March Break, the Vancouver Art Gallery is holding a special program called LOOK! LEARN! MAKE! for families to explore the Arts together. The program is completely free for gallery members or with normal gallery admission. For anyone living in BC's interior, the Kamloops Art Gallery is similarly offering Spring Break Art Camps for kids, costing only $15 per day.
Check Out Some Local Hot Spots
One of my favourite places to go as a child was Granville Island in Vancouver. There are always outdoor performers juggling, singing, or playing music, there a ton of unique shops to check out, and the Kids Market used to entertain me for hours! The most this will cost you is the price of parking, and instead of buying lunch you can pack a picnic and eat right by the sea. Another great place to visit is Stanley Park. You can walk along the seawall, play on four different playgrounds, and check out the famous totem poles and First Nations outdoor art. In Saanich on Vancouver Island, there's also a great guided tour during March Break held by a Regional Parks' naturalist for free and is open to all ages.
Do Something Outside the Box
The Burnaby Village Museum is a great place for kids to soak up a bit of history while having some fun at the same time. And during March Break from noon – 4pm there will be a special program that includes crafts, entertainment, carousel rides, and a scavenger hunt for only $7 per ticket. Over at the Honeybee Centre in Surrey, you can enjoy a tour, experience the live insect museum, taste honey, and wear a beekeeping costume for only $5 per person or $15 per family of four. And finally at the H.R. Macmillan Space Centre in Vancouver, your family can enjoy an out-of-this-world experience. You can also save some extra money if you have any kids under the age of 5, as their admission is free. Otherwise, the cost for a family to go during the day is $56 and only $38 during the evening.
Bargainmoosers, what are your plans for March Break 2014?
(Image: JeffreyTurner)