Fingerlings For $15.99 @ The Bay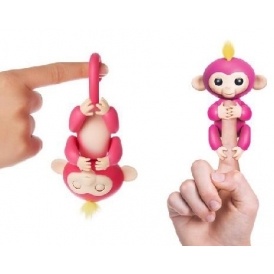 Fingerlings are going to be a top contender on Christmas lists allover the world this year. Here's your chance to get them at a discounted price! Use the code FRIENDS when you check out at The Bay with your HBC Credit Card and you'll get Fingerlings for $15.99 ($16.99 with any other form of payment) down from $19.99.
The Fingerlings available at TheBay.com include:
Fingerlings Bella Monkey
Fingerlings Sophie Monkey
Fingerlings Finn Monkey
Fingerlings Monkey Mia
Fingerlings Monkey Boris
Fingerlings respond to sound, motion and touch. You can even blow them kisses, you'll receive some back! They grip onto your finger and look cute. I am buying one for the kids just so I can play with it
Spend $99 to get free shipping from TheBay.com, or $45 if you make your purchase with an HBC Credit Card.
This coupon code will expire on September 24th
If you like this, you may like these...